Sedona Ascension Retreat
March 17 @ 8:00 am

-

March 19 @ 5:00 pm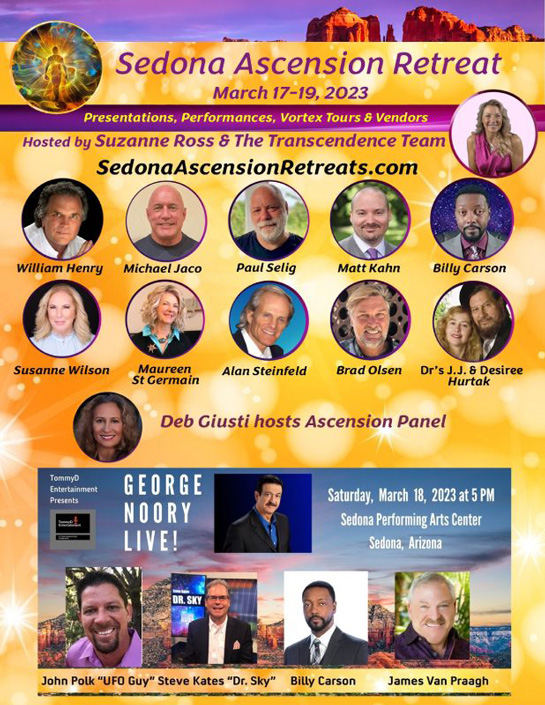 Receive 10% off your purchase, use coupon code
MichaelJaco10
Offer valid through March 17, 2023.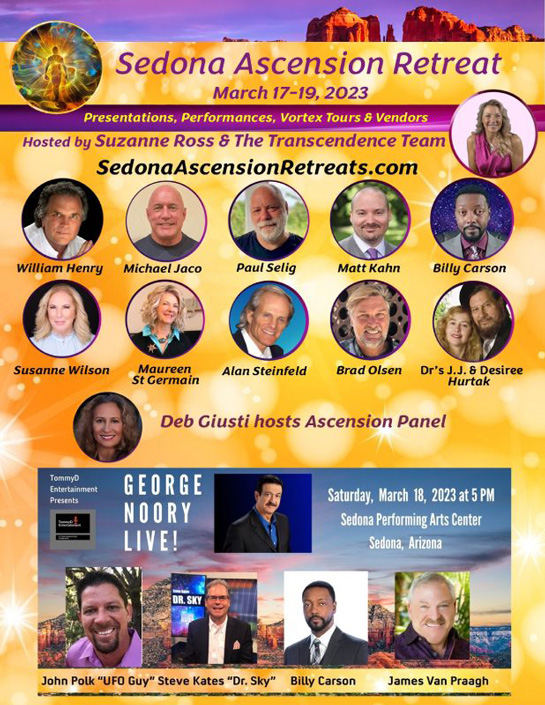 GET READY FOR A QUANTUM LEAP INTO
5D NEW EARTH CONSCIOUSNESS
Sedona is a powerful vortex on the planet in which the veils are thin due to the high frequency of the spiraling energy. Accessing higher dimensions is easier within this high frequency immersion and why Sedona and other sacred temple sites are so conducive to ascension. Join us for a powerful immersion experience into the high frequency vortex of Sedona!
This multi-faceted retreat includes presentations, practices, performances PLUS a LIVE George Noory show. We also offer workshops, spiritual journeys into Sedona's vortex sites and a UFO SkyWatch!
Check out our VIP Pass which includes front row section seating, 2 Tours, UFO SkyWatch and a special Meet & Greet with selected speakers.
The General Admission Pass is just a 3-day admission pass but you can ADD-ON Tours, Workshops and the UFO SkyWatch.
We will also have an Outdoor Stage featuring amazing speakers and performers as well as both retail and food vendors! There is SO MUCH to do and experience during this PHENOMENAL 3-DAY EXTRAVAGANZA!
Suzanne@SuzanneRossTranscendence.com